Master of Orion II: Battle at Antares (1996)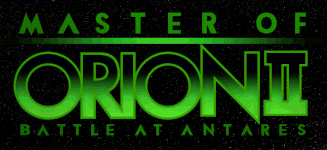 Master of Orion 2 (MoO2) is a 4X turn based space strategy game and direct sequel to Master of Orion. With the addition of 3 new races and numerous new features and improvements, this game lauded by fans as the 'best' of the 3 original MoO games. Perhaps even considered to be the yardstick in 4X games.
Long ago, two races of great power, the Orions and Antarans, fought a war that left most of the galaxy in ruins. The Orions emerged victorious and imprisoned the Antarans in a pocket dimension. Before leaving the galaxy, the Orions left behind the Guardian, a warship of immense power, to protect their home.
It didn't take long for the Antarans to stay down! They broke out of their prison dimension and are ready to wage war once again.
In this game, players can design and add races to join the battle. This game allows you to win with methods apart from brute force – claiming the Orion star does not score a victory. To win, you can choose between these three routes:
1) Defeat every enemy
2) Charm your way and work towards being elected as the supreme leader of the galaxy
3) Conquer the Antarans by launching a successful offensive against the Antaran homeworld.
Make full use of your ability to rule your people and resources for your rightful victory!
As with the original game, you can still run your old copy on modern systems with certain settings and software. Quite a few people are still playing MoO2. If you are one of them or want to discuss the hours of glorious space conquest of the past, feel free to discuss here in this forum section. Perhaps you'd like to tell us the story of the time you took the battle to Antares or used the mighty Stellar Converter on every single planet your enemies occupied.
Fellow Conqueror of the Stars, you are welcome here.